Happy New Year (if a bit late)!

We started the year with unseasonably warm weather. Last year we remember having thermals on through most of January and the work in the hall wasn't much warmer than being outside! This year though, only a handful of times have I had extra layers on!

We had a busy but chilly day with Blenhiem Park Primary School who came out in January for some orienteering, fire lighting leading to them cooking sausages and then some quick shelter building. Considering the meadows being so wet and the wind slowing down the fire lighting the children did really well.

The year inside has started with some new paint for the woodwork in and around the corridor leading to the dining room and toilets as well as the dining room itself is having a new coat of paint to brighten it all up! Outside has seen coppicing, BBQ painting and bridge building! Seems to have been a busy few weeks!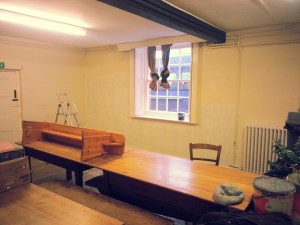 Reepham Patient Care Fund (RPCF) has officially merged with Whitwell Hall. You won't see much change of Whitwell Hall, apart from the two blue minibuses at the front of the hall, which were there for much of last year anyway. It does mean, however that Whitwell Hall can continue to actively help the older generation of Reepham and the surrounding area which RPCF started, this service would have been lost if we hadn't of taken it on. We are always looking for volunteer drivers, however much time you can spare be it a little or lot. Click on the RPCF tab on the website for more information.

The 2016 summer season is filling up fast for both schools and private groups. We have a few 'spare' dates in the summer holidays and lots of space in the 'out' of season time if you fancy coming out to us!

Twitter and Facebook will keep you updated until the next blog!
Happy New Year to everyone!

The year of 2015 went just as quickly as all the others for us at Whitwell Hall! The season came and went in a blur.  Many camp fires had by both staff and our groups both school and private. Along with work completed around the hall and estate, most of which goes unnoticed as it is just to keep Whitwell Hall, as we know it.

The 'new' group of Reepham High School and College students, working toward their CoPE, award have done a brilliant job as always. Jobs such as re-wiring the kissing gate and vehicle gates onto the meadows, dismantling a bridge ready to rebuild in 2016, brash clearing on the site and they couldn't go without a few fires along the way!  Both groups, year 10's and year 11's finished 2015 on a high with the Whitwell Hall annual Christmas meal for some of the elderly residents of Reepham and users of Reepham Patient Care Fund. The year 11's prepared and cooked a three course meal with all the trimmings overseen by John, while the year 10's ran the front of house and service with the help of Matt (although how much help Matt was, is debatable!). Next year the year 10's get to try the kitchen work out and the 'new' year 10's will be front of house. The new year holds lots more jobs for both groups both inside and out.

2015 started with four Red Squirrel kittens born around Easter weekend and we are hopeful that Bracken and Cobb, the two resident adult Red Squirrels, will breed again. More kittens will enable the East Anglian Red Squirrel Program, of which Whitwell is part of, to help other captive breeding and re-introduction programs around the UK. They start the year with a Christmas tree in their enclosure decorated with fruit, vegetables, nuts and seeds. We will see how they like it!

Before we know it, the 2016 school season will be upon us and then into the summer camp groups.


The first blog on for our new website. The aim is to keep viewers of the blog up-to-date with what is or has been happening at Whitwell Hall. Depending on the seasons, depends on our work load but we will ensure the blog is ongoing, so keep a look out.

Whitwell Hall and the staff had a brilliantly busy season of schools and activities. Every year before the season starts we comment on how quickly it approaches after Christmas and we weren't wrong again! By the third week of March we had already started with our first school in the hall, Firside from Hellesdon. After them it wasn't long before we then put our tents out on the campsites ready for the first camping groups.

By the peak, we had three different schools on site doing a range of activities. It always amazes us at how our bodies can go from a slow pace through to working long hours and stopping long enough for a cup of tea!

And then it is the end of the school term and although the pace lessens slightly, our summer is filled with a range of private groups camping or staying in the hall. This is the time that the maintenance of the site begins. catching up on what has been delayed during the busy school season and listing what needs doing. The website was a priority this year and hopefully, now that it is live, people are pleased with it.

If you visited Whitwell Hall Country Centre during May, June and July, you may have seen the four new additions Cobb and Bracken, our Red Squirrels had. Over a the Easter weekend, we had four kittens (young squirrels) emerge from the boxes within the squirrel enclosure. When Matt and John first saw them, they were still wobbly and not sure but it didn't take them long to find their feet and start bouncing around. The kittens proved to be a star attraction to the visiting groups with most of the schools being taken to see them. Once the school season was over, the tricky job of trying to catch the kittens started! We catch the squirrels and take them to Pensthorpe Natural Park where they get looked after, checked, chiiped and distributed to other enclosures or released to a stable wild population. Within the enclosure this allows for Cobb and Bracken to have more room and get ready for their next litter. You can find out more about our Red Squirrels and the work we do at http://www.whitwellhall.org/red-squirrels-whitwell/

Look out for another blog soon!