Happy New Year (if a bit late)!

We started the year with unseasonably warm weather. Last year we remember having thermals on through most of January and the work in the hall wasn't much warmer than being outside! This year though, only a handful of times have I had extra layers on!

We had a busy but chilly day with Blenhiem Park Primary School who came out in January for some orienteering, fire lighting leading to them cooking sausages and then some quick shelter building. Considering the meadows being so wet and the wind slowing down the fire lighting the children did really well.

The year inside has started with some new paint for the woodwork in and around the corridor leading to the dining room and toilets as well as the dining room itself is having a new coat of paint to brighten it all up! Outside has seen coppicing, BBQ painting and bridge building! Seems to have been a busy few weeks!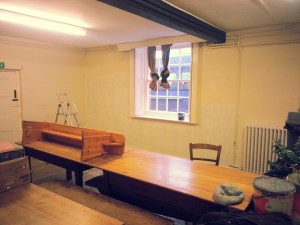 Reepham Patient Care Fund (RPCF) has officially merged with Whitwell Hall. You won't see much change of Whitwell Hall, apart from the two blue minibuses at the front of the hall, which were there for much of last year anyway. It does mean, however that Whitwell Hall can continue to actively help the older generation of Reepham and the surrounding area which RPCF started, this service would have been lost if we hadn't of taken it on. We are always looking for volunteer drivers, however much time you can spare be it a little or lot. Click on the RPCF tab on the website for more information.

The 2016 summer season is filling up fast for both schools and private groups. We have a few 'spare' dates in the summer holidays and lots of space in the 'out' of season time if you fancy coming out to us!

Twitter and Facebook will keep you updated until the next blog!